Bonus points if you caught the Anthrax reference. The band, not the disease. I hope you never catch Anthrax.
Look, it's pretty easy to find evidence online demonizing social media. It's the same criticism that was lobbed at books (Socrates was kind of a dick about books), movies, radio, television, and video games. I'm not arguing we go back to the days of rotary and fax machines.
But have you stopped to consider what you're doing on social media? Are you intentional about how and when you use it? Most of us aren't.
Writing for BuzzFeedNews, Senior Culture Writer & Editor, Shannon Keating does a nice job investigating how the pandemic and social media have created a not-so-perfect storm (you'll marvel at the callback to this a little further down the page) that has many of us questioning the need for Facebook updates, filtered pics of our Tuesday Night Tacos, and the Twitter bomb that happened to flame whatever side you're not on.
Am I saying you should log off social media for good? Probably. Will you? Doubtful.
Seize the day.
People Are Ready To Log Off Social Media For Good (article)
Who Let the Blogs Out? // Myspace Tom got it right
---
Sensing a theme here? You should, I try for that in every curated newsletter.
Remember Myspace? I do. My band had a page, and at the height of the early 2000s internet, we had almost 20,000 views. Which translated to about four CD sales. Score!
But this post on TheVerge.com by Luke Winkie is not really a nostalgic romp across the blinking cursors and outrageous color schemes of what was more of a social network than social media.
Winkie argues that Myspace Tom never tried recapturing the Glory Days. He didn't crave the spotlight like other social media pioneers even though he sold Myspace to News Corp in 2005 for $580 million.
I find myself looking too far over my shoulder instead of where I'm going. I could learn a thing or two from Myspace Tom.
Myspace Tom got it right (blog post)
Pod Save the Queen // "Retirement For Teachers" author discusses her book, upcoming retirement-at 37
---
I'm always searching for the best podcasts for teachers, and the Financially Independent Teachers podcast never disappoints. Dave and Brandon talk to real teachers about things that matter, financial things that teachers rarely like to talk about.
If you're looking for investment advice from an actual teacher, this is a can't-miss episode.
"Crystal Parker Duffy is a soon to be retired (37) California HS choir director. She recently wrote the book 'Retirement For Teachers.' In this episode, we discuss basic retirement strategies for educators, investment plans and her journey to financial independence. If you would like to enter a drawing to win a free copy of her book, visit the Financially Independent Teachers Facebook page and fill out the Google Form!"
"Retirement For Teachers" author discusses her book, upcoming retirement-at 37 (Financially Independent Teachers Podcast) (podcast episode)
Mall Food Court // Breakfast Recipe: Mango Yogurt Smoothie
---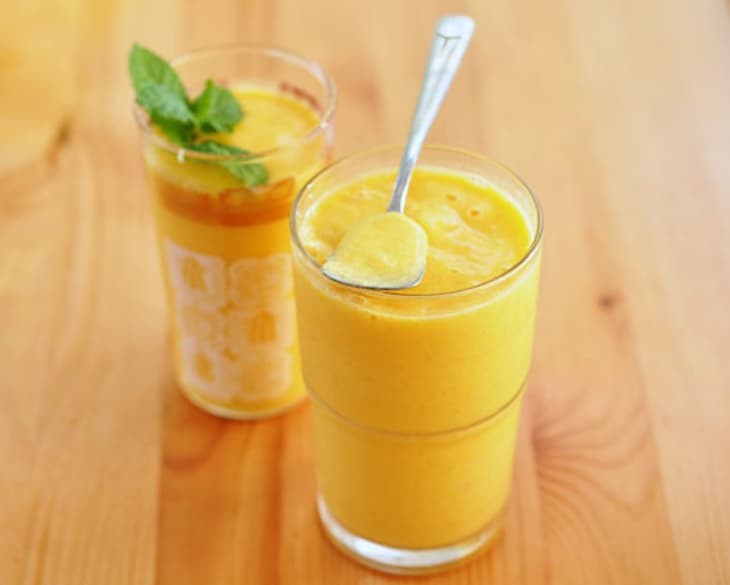 The 2000s gave us the Hanging Chad, but it also opened our eyes to the world of the fruit smoothie. It's hot out there, kids. Crank up the blender and break out the ice for this mango delish delight. No cooking required!
"Is it hot where you are? I've been hiking around New York City in 94°F heat, and I'm about to head back to the Midwest where it is still in the high 80s. It's so hot, most food doesn't even sound good. Drinks, on the other hand, especially fruity drinks, sound heavenly. Here's one that I've been sucking down for breakfast, since it offers both nourishment and refreshment."
Breakfast Recipe: Mango Yogurt Smoothie (article)
Pass the Remote // The Perfect Storm
---
Based on Sebastian Junger's book (which is AMAZING), this movie could have been titled, The Perfect Plot. Brutal in its simplicity and perfect in its execution, George Clooney and Mark Wahlberg rode the waves to four Academy Awards.
From imdb.com:
"In October 1991, a confluence of weather conditions combined to form a killer storm in the North Atlantic. Caught in the storm was the sword-fishing boat Andrea Gail. Magnificent foreshadowing and anticipation fill this true-life drama while minute details of the fishing boats, their gear and the weather are juxtaposed with the sea adventure."
The Perfect Storm (Amazon Prime Video)
Mixtape Rewind // "Beautiful Day" by U2
---
U2 is my favorite non-favorite band. I've seen them multiple times, respect them more than just about any other band, recognize dozens of their songs, and yet I never bought their records back in the day.
I'll confess, I had a college buddy who listened to U2 NON-STOP which made me want to kill him (and Bono).
By the time All That You Can't Leave Behind dropped in 2000, you couldn't escape "Beautiful Day." And why would you want to? This is a perfect pop song by a perfect pop band, arguably at their artistic and commercial peak.
Little ditty from Wikipedia: In 2001, the song won three Grammy Awards for Song of the Year, Record of the Year, and Best Rock Performance by a Duo or Group with Vocal at the 43rd Annual Grammy Awards ceremony. The group has played "Beautiful Day" at every one of their concerts since the song's live debut on the Elevation Tour in 2001.
"Beautiful Day" by U2 (Spotify)
Where Were You When… [2000]
---
The 2020 election made the 2000 election look tame. Sure, Gore invented the internet and you would have thought that might have bagged him Florida. Who knows? Maybe it did.
Background from Wikipedia: The controversy began on election night, November 7, 2000, when the national television networks, using information provided to them by the Voter News Service, an organization formed by the Associated Press to help determine the outcome of the election through early result tallies and exit polling, first called Florida for Gore in the hour after polls closed in the peninsula (in the Eastern time zone) but about ten minutes before they closed in the heavily Republican counties of the panhandle (in the Central time zone). Later in the evening, the networks reversed their call, moving to "too close to call", then later giving it to Bush; then they retracted that call as well, finally indicating the state was "too close to call". Gore phoned Bush the night of the election to concede, then retracted his concession after learning how close the Florida count was.
Along with death and taxes, can we add "contested elections" to the list?
After Bush v. Gore: 2000 Election Documentary | Retro Report | The New York Times (YouTube.com)
Your internet experience in the year 2000.
---