Surprise, surprise. A startup by a founder in their 50s is twice as likely to be successful as one founded by an entrepreneur in their 30s or 40s.
This brief article on Inc.com by Jeff Haden talks about why most people are wrong when they think the most successful entrepreneurs were twentysomethings (Bill Gates, Mark Zuckerberg, Steve Jobs, Richard Branson, Random Tech Bro, etc.).
As it turns out, by the time you've hit your 50s, you're past most of those midlife challenges that can create significant hurdles to starting a business—like family responsibilities, job security, and lack of cash flow.
You're not about to run out and start pitching venture capitalists. I get it. But take heart in knowing that you have a personal asset that can't be bought, rented, hacked, or stolen—life experience. Use it or lose it because sweet pain is the name of the game.
Go ahead and Google that line if you need to. I'll wait.
Seize the day.
The Ideal Age to Start a Business (article)
Who Let the Blogs Out? // How to Identify Skills You Can Use For a Career Change At (or Even After!) 50
---
You can't go wrong with a blog name that riffs off a Rolling Stones song. They put out some wonderful music in the 80s, so GenX can lay claim to the Stones even if they're technically boomers.
As Alison Whelan writes on the post:
"It's easy to feel pigeon-holed by our past roles, constrained by what we are used to doing every day. Still, chances are, you now have less direct responsibility for others in life; any kids you had have grown up. You've got more room to maneuver in terms of decision-making just for you, so now's your opportunity to broaden your perspective and be a little more open to curiosity."
Now is the time to start thinking about your post-academic life, your second (or third? or fourth?) act.
You can do a simple mental exercise to get those ideas flowing. The Midlife Rambler suggests you:
List what you know
Focus on what you enjoy doing and forget about the rest
Identify your strengths
Find out what others think
Define your superpowers
How to Identify Skills You Can Use For a Career Change At (or Even After!) 50 (blog)
Pod Save the Queen // Helmet Insights
---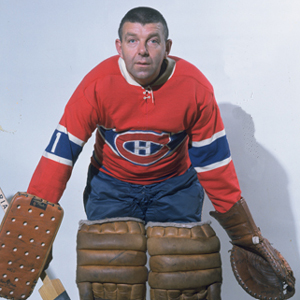 For the record, Seth isn't talking about masks. He's talking about helmets. But there's definitely a connection between Gump Worsley and what happens when, "people like us do things like this."
If you're not familiar with Seth Godin, he has one of the longest-running daily blogs in the world and is the most successful internet marketing guru in history.
I interviewed Godin for the Writers, Ink podcast where he talked about the importance of mindfulness, beating resistance, disregarding authenticity, and choosing passion rather than chasing it.
Akimbo is one of few podcasts I listen to faithfully every single week.
Akimbo: A Podcast from Seth Godin (podcast episode)
Mall Food Court // Just Eat
---
"Entering a no-spoiler zone, the book concludes that most diets are kinda bullshit, while unpacking the author's own hang-ups with food—from the perspective of an on-the-clock 'food professional.'"
You had me at, "most diets are kinda bullshit."
Barry Estabrook, an investigative journalist, has a new book out called Just Eat. As you can tell, the title is a bit of a spoiler.
This article on TasteCooking.com includes a quick interview with Estabrook who reveals that the worst diet he tried was one Beyoncé used to lose weight for a film role. Word has it that Janet Jackson and Jennifer Lopez were doing it decades before Beyoncé was [Editorial GenX reference, but not true. Or is it?].
The takeaway? Estabrook says that there is no best diet. "Eating is extremely personal and individual."
Would the "Pizza Hut" diet work? It did for me in 1989, but that may have just been the Marlboro reds combined with teenage angst.
The Best Advice After Trying Every Fad Diet? Just Eat. (article)
Pass the Remote // Lean on Me
---
You'd be hard-pressed to find a more endearing teacher movie than Lean on Me.
Released in 1989, Lean on Me is a film written by Michael Schiffer, directed by John G. Avildsen, and starring Morgan Freeman. It chronicles the life of Joe Louis Clark, who was the principal of Eastside High School in Paterson, New Jersey. Sadly, Joe passed away at the end of 2020.
It's probably been a minute since you watched this movie. It's worth dusting off your VCR (or Amazon Prime Video membership) to check it out again.
I saw myself in the kids Joe was trying to help when I was 18 in 1989. Now, I can see how I channeled Joe during my last few years in the classroom.
Yes, you'll be singing the Bill Withers song after you watch the movie. But don't forget that Lean on Me also featured songs by Guns N' Roses and Michael Jackson.
The CW was close to creating a reboot (backed by LeBron James and John Legend), but it was never picked up to pilot.
Let's enjoy the original and hope this is one potential Hollywood reboot we won't have to suffer through.
Lean on Me (Amazon Prime Video)
Mixtape Rewind // "We Didn't Start the Fire" by Billy Joel
---
Bah, da, bah, da, bah, da, bah, da—Communist rock! Those were the only words I could remember, and they're wrong (it's Communist Bloc).
This song was a GenX anthem ahead of its time. "We didn't start the fire." In other words, don't blame us.
Joel is a Boomer and his nostalgic lyrics written in the 80s reflect the experiences and values of someone growing up the 50s.
But let's not overthink this. "We Didn't Start the Fire" is one of the catchiest pop songs you'll ever hear. And do you remember how many times we saw the video on MTV?
JFK – blown away. What else do I have to say?
"We Didn't Start the Fire" – Billy Joel (Spotify)
Where Were You When… [1989]
---
I can't imagine what the fall of the Berlin Wall would have been like in the internet age. In November 1989, every newscaster and journalist in the world was there to watch the exuberant West (and East, to be fair) Germans…tear…down…that…wall.
The world sorely misses Peter Jennings, the sole anchor of ABC World News Tonight from 1983 until his passing in 2005.
The beer mugs, the mullets, the mangled English. Let's tip one to Checkpoint Charlie and P.J.
Nov. 10, 1989: Celebration at the Berlin Wall (YouTube.com)
Silly Rabbit! Gifs Are for Kids!
---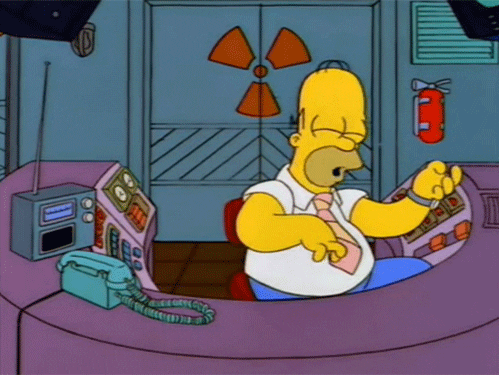 Air guitar in Sector 7G. It's sad/impressive that I knew which sector Simpson worked in without Googling it.