"The stories you hold on to will be colored by your own experience—but also by the experiences of those around you."
In a recent article by Melissa Fay Green for The Atlantic, she explains the pandemic hasn't been a single traumatic event like the tragic Challenger explosion or the events of 9/11. We're in a slow-moving catastrophe where story and reality become intertwined with something we'll call memories.
We have the power to decide what we remember and what we forget. We control the narrative in a way that suits who we are and what we believe. Politics aside, Americans will have very different recollections of what happened over these past 14 months and what will happen in the next several years.
Like many things wrought by this insidious and deadly virus, it has forced us to reexamine many long-held beliefs about our finances, our relationships, and our lifestyles. The power of change has been here all along, which is exactly what Dorothy realized just before clicking her heels and returning home. We live according to stories—ones we author.
We're not there yet. We may never get back to "normal." But if you don't like the way the story is unfolding, rewrite it. Although this might sound like a quote from The Breakfast Club, you are the author of your own destiny.
Seize the day.
You Won't Remember the Pandemic the Way You Think You Will (article)
Who Let the Blogs Out? // Health experts reveal the ideal number of steps a day to stay healthy
---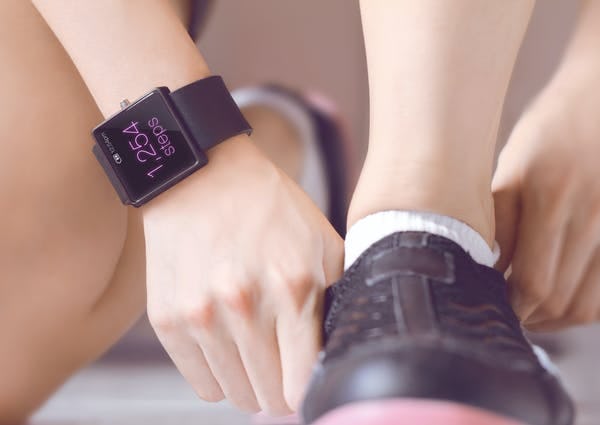 Doing anything 10,000 times in one day sounds ludicrous. And who's counting shit like that?
You know what I'm talking about. You've been hearing it for years. 10,000 steps per day will keep you healthy and vibrant. But where did this advice come from? And is it true?
Lindsay Bottoms reveals what the health experts say you need to do to stay healthy.
The "Bottoms" line (See what I did there?) is that aiming for 150 minutes of moderate-intensity physical activity per week can do wonders, regardless of how many steps you take.
By the way, the ancient Romans measured distances by counting steps. Archaeologists have not yet found a FitBit in the ruins of Pompeii.
Health experts reveal the ideal number of steps a day to stay healthy (blog)
Pod Save the Queen // Domain Flipping: $70k+yr Investing in Domain Names Part-Time
---
Hello. My name is Tim and I have a GoDaddy problem.
Ever since GoDaddy rolled out their mobile app several years ago, I've spent hundreds of dollars purchasing domains that sounded like million-dollar ideas at 3 a.m. only to turn out to be ten-dollar ideas at 3 p.m.
Whether it's a new book idea, business idea, or clever URL, I'm constantly buying domain names that keep accumulating in my dashboard.
What if you could sell those old domain names, like an http garage sale? Mark Levine has done just that. Last year alone, he flipped 70 domain names for a gross profit of $160,000.
Listen to Mark explain how he did it to The Side Hustle Show host, Nick Loper.
437: Domain Flipping: $70k+yr Investing in Domain Names Part-Time (The Side Hustle Show) (podcast episode)
Mall Food Court // Have Sad Desk Lunches Gotten Sadder?
---
Maybe you've been eating lunch in the faculty lounge. Or maybe you prefer the office break room. If you're like my wife, you've been lunching in the front seat of your Honda CRV since March 2020.
But when the pandemic hit and many of us we're working from home, the lunch break was anything but.
Having been self-employed for four years, I understood that lunch was simply another meal to prep, prepare, and clean up. But those new WFH'ers quickly discovered that lunching at home wasn't all it was cracked up to be.
"Freedom—or at least a quick breath of escapism—is what everyone seems to be craving for lunch."
Whatever you plan (or don't) for lunch, make sure you give yourself some time away from work. If you're lunching in your Honda CRV, I guess you can literally drive yourself away from work.
Have Sad Desk Lunches Gotten Sadder? (article)
Pass the Remote // Ferris Bueller's Day Off
---
These days, breaking the fourth wall in television or film doesn't win you any awards. If you're like me, you're going through withdrawal after Peacock plucked "The Office" from Netflix—the show being one of the most masterful examples of breaking the fourth wall.
But in 1986, John Hughes (writer, co-producer, and director) crafted an enduring story he wrote in less than a week.
Ferris Bueller, played by Matthew Broderick, skips school while romping through the endearing city of Chicago with exploits at the then Sears Tower, Wrigley Field, and the Art Institute of Chicago.
It's no surprise that the film was the top-grossing film of the year or was selected for preservation in the National Film Registry by the Library of Congress.
And who could ever forget that 1961 Ferrari 250 GT California Spyder? Oh Yeah!
What was your favorite high school skip day memory?
Bueller, Bueller, anyone?
Ferris Bueller's Day Off (Amazon Prime Video)
Mixtape Rewind // "Walk This Way" by Run D.M.C.
---
Being a rock guy, I have to admit I didn't embrace Run D.M.C. as true artists until I saw the Aerosmith video on MTV.
But in all honesty, the rap rock version of Aerosmith's 1975 song is a classic that made Raising Hell one of the greatest albums of all time, regardless of genre.
There are too many firsts to list when it comes to Raising Hell, which was powered by "Walk This Way." It's safe to say that Run D.M.C. represented the "golden age" of hip hop on the charts and off.
Years later, the legacy of this phenomenal trio would be tarnished by Mizell's murder on October 30, 2002 in a Queens recording studio. It would take 18 years for the police to make an arrest, but even justice won't bring Jam Master Jay back.
With an infectious drum beat and hilarious yet subversive lyrics, I never tire of walking this way.
"Walk This Way" by Run D.M.C. (Spotify)
Where Were You When… [1986]
---
Like many of us, I was sitting in class after my teacher wheeled in the television, taking 15 minutes to arrange the rabbit ears so we'd get a somewhat decent reception.
In hindsight, I wish we hadn't been able to see the picture so clearly on that late January day in 1986.
NASA had its problems, but most of the ones involving launch-day issues had been swept under the rug. They didn't know it at the time, but a catastrophe of this magnitude was inevitable. The sad thing is that it didn't prevent something like this from happening again.
As an adult who spent over 23 years as an educator, I can't imagine how Christa McAuliffe's family and school managed to get through this tragedy.
While the Boomers ask each other, "Where were you when Kennedy was shot?", GenXers ask each other, "Where were you when the Challenger exploded?"
1986 Space Shuttle Challenger explosion: CNN's live broadcast (YouTube.com)
Silly Rabbit! Gifs Are for Kids!
---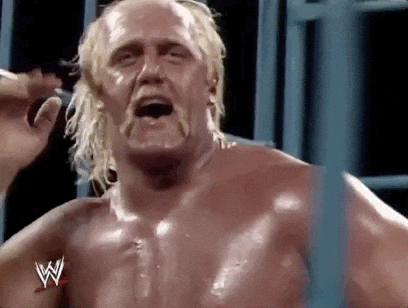 Hulkamania was runnin' wild! The good old days of the WWF when wrestling was real.